POSTPONED - 2021 Education Conference and Trade Show

Mountain America Expo Center | 9575 S State Street Sandy, UT 84070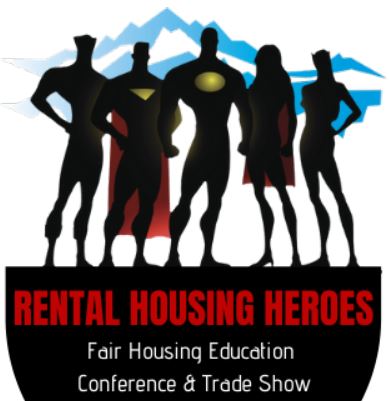 $45 Conference Admission
$70 Conference Admission with Lunch
---
The UAA Fair Housing Education Conference and Trade Show is the state's largest event for individuals involved in rental housing. Attendees who attend receive world class education in addition to an enjoyable day of networking, playing games, and winning prizes from exhibitors.
---
Education Schedule*
Registration & Trade Show Floor Time | 8:00
Education Session #1 | 9:30
Current Issues in Fair Housing | Panel
Fair Housing can be a difficult maze to navigate, with expensive penalties for doing it wrong. Learn about the most pressing Fair Housing issues that are impacting Utah Rental Owners and Managers.
How Established Communities Can Succeed in a Lease-Up Market | Amy Kosnikowski Dilisio
Feeling the negative effects of the new product in your market? Need to transform to effectively compete? Attend this session to renew your community by maximizing your offering with a strong, talented message and product with updates that matter. Tap into the latest resident trends to adjust marketing and leasing efforts to elevate your community to compete.
The Psychology of Customer Service | Rommel Anacan
"Why do so many people in customer service, who know better, choose to say and/or do things that make everyone else wonder, 'What were you thinking??'" Or why do good-intentioned people, who want to provide great customer service experiences, fail to say or do the things that their customers want them to say or do? In this session you'll discover what prevents customer service professionals from giving their customers what they really want and how to break through those barriers to create amazing customer service experiences.
New Laws for Property Managers | Panel
Learn the newest laws passed by the 2020 legislature and discuss what laws may be on the agenda at the next legislative session. Also discuss federal and local laws that are evolving and how they impact your operations.
Electrical Fundamentals Class (9:00 3 hour course) | HD Supply
This three-hour class is an introduction to and overview of electricity, how it works, and how it is measured (voltage, amperage, watts, and resistance). Ohm's law and its applications will assist in defining and understanding troubleshooting components.
Education Session #2 | 10:45
Sexual Harassment in Housing is Illegal | Michele Hutchins
This session will provide information on how to recognize sexual harassment and the housing providers responsibilities to address it when it occurs. Learn about the two legal doctrines under sexual harassment: "quid pro quo" and "hostile environment." Identify steps to prevent sexual harassment, how to provide appropriate responses to harassment, and ensure it doesn't occur in your housing.
Be A Coach Not the Boss | Amy Kosnikowski Dilisio
Today's teams do not want to be "bossed around" but rather prefer to be coached with clear expectations, fair performance management and frequent customized communication from their coach. Learn from the ultimate coach's playbook to increase team member's accountability and ownership to exceed goals every time!
The Powerful B's of a Powerful Team | Rommel Anacan
If you lead a team today you want them performing at their highest potential don't you? But how often do you find that your team seems to stuck in a low gear, neutral, or even worse, in reverse? In this dynamic program you'll discover not only the three B's of developing a high-performance team, but specific action items on how to implement the power of the "The B's" to work for you.
Current Issues in Short Term Rentals
Learn how modern travel preferences have changed and how short-term rentals are filling a growing need. Discuss the housing affordability issues with short-term rentals and the balance between "highest and best use," property rights and the squeeze short-term rentals put on workforce housing. Also learn the state and local laws and how to talk intelligently about the issue with your clients.
Lunch | 12:00 - Keynote Luncheon Speaker To Be Announced!
Education Session #3 | 2:15
Assistance Animal Verification Procedures | Panel
Complaints about assistance animals are the number one issue in Fair Housing. Learn the verification process to make sure the legitimately disabled receive accommodations and eliminate fraud.
Bridge the Gap to Unite the Office and the Maintenance | Amy Kosnikowski Dilisio
The ideal teamwork scenario is people coming together using their individual skills, ideas and support to achieve a common goal. Why is this shared vision and cooperation so difficult to achieve with the office and maintenance team? Discover solutions to this common onsite challenge along with proven ideas to succeed together.
Stop Selling - Start Attracting | Rommel Anacan
Get an inside look at the heart and mind of your customers. You'll discover what they want from you, what they don't want from you, what attracts them to what you're selling and what makes them want to run away. Want to know how to help your customer "fall in love" with what you're selling? This session will show you!
Tips and Tricks for Improving Vacancy
We've all heard it before: TIME IS MONEY! In this session you'll learn about the newest strategies and tips for improving your vacancy and turn times from systems to speeding up your process and preventative measures and steps you can take to reduce turn times across your portfolios.
Furnace and AC Maintenance and Trouble Shooting (1:30 3 hour course) | HD Supply
This three hour class will cover proper maintenance of furnaces & air conditioners and what is necessary to keep them running smoothly. Trouble shooting common issues and repairs will allow you to complete service requests and repairs more efficiently.
Education Session #4 | 3:30
Current Issues in Fair Housing | Panel
Fair Housing can be a difficult maze to navigate, with expensive penalties for doing it wrong. Learn about the most pressing Fair Housing issues that are impacting Utah Landlords and Managers.
Crazy Busy vs. Productive: a Plan to be Effective | Amy Kosnikowski Dilisio
Learn to see the service department as an integral and essential entity that can complement the other operational units of your property. This class with take a holistic approach and teach you how to interact, communicate and partner with the entire team (management, leasing, accounting, development, etc.).
Throwing Shade: The Secrets of Dealing with Difficult People | Rommel Anacan
We are wired for connection. We are designed to want relationships with people and to need people. Yet if we're honest the biggest cause of stress, anger and frustration in our lives are often caused by people! So, the very thing we need, want and desire is the very thing that drives us crazy! In this session you'll discover how to effectively deal with the difficult people in your life in ways that build connection and trust, and without making any situation even worse.
* Education Schedule subject to change